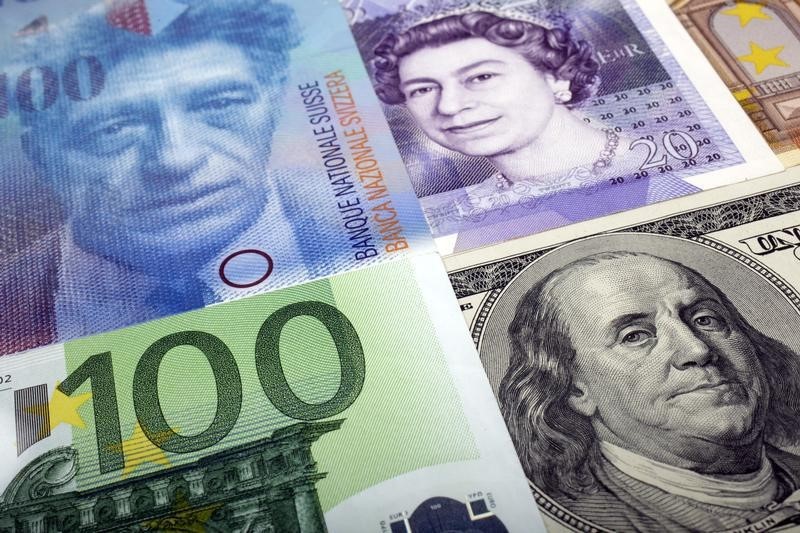 © Reuters.
Investing.com -- Risk sentiment returned to the foreign exchange markets early Friday in Europe, with the Swiss franc and yen retreating against the dollar, and the dollar retreating against the pound as a week of turbulent newsflow drew to a comparatively quiet close.
By 3:30 AM ET (0730 GMT) the dollar index, which measures the greenback against a basket of developed market currencies, was at 98.078, up 0.1% from late Thursday in the U.S. and on track for a gain of around 0.7% on the week.
The dollar was also a fraction higher against the Chinese yuan, which showed little or no reaction to comments on Thursday by U.S. President Donald Trump that he expects a phone call with his opposite number Xi Jinping "quite soon" to iron out some of their differences on trade.
Analysts at Nordea pointed out in a morning note that history suggests the dollar index will trend higher against the current background of fears of a global recession, something that could complicate U.S. policy toward China and the euro zone given the Trump administration's eagerness to weaken the dollar.
Past instances of the U.S. yield curve turning inverted have on average led to a 3% rise in the dollar index over the subsequent three months, they noted, due not least to gains against the Aussie and Kiwi. They noted that EUR/GBP also tends to strengthen in such periods.
The euro, meanwhile, remains under pressure after a week of generally poor economic data, which were followed on Thursday by comments from European Central Bank governing council member Olli Rehn calling for an "impactful and substantial" package of easing measures at the ECB's next policy meeting in September. The euro was at was $1.1092 and at 0.9152 against the pound, on course for a weekly loss of 1% and 1.7%, respectively.
In emerging markets, the Turkish lira continued to strengthen, as did the Mexican peso in the wake of the central bank's decision to cut its key interest rate by 25 basis points on Thursday, the latest in a growing list of easing measures by the world's central banks. Mexico's move reflects confidence that the troubles of Argentina, whose currency lost a quarter of its value this week on fears about the future direction of economic policy, won't spread to other countries and currencies.
Original Article