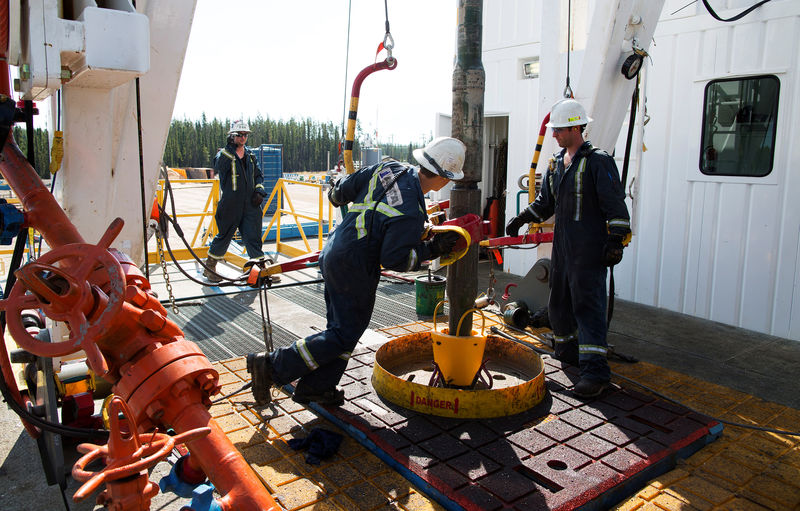 © Reuters.
Investing.com – Clinging to the rosy economic thesis of the Fed and OPEC's about-turn that it suddenly saw no recession ahead, oil bulls pushed crude prices higher on Wednesday even as U.S. production is expected to hit a new record this month.
Prices of West Texas Intermediate and London's Brent rose by less than 1% each as traders awaited industry data later in the day likely to show a third weekly build in U.S. crude stockpiles — yet another reason for the market to be lower, rather than higher.
WTI settled up 32 cents, or 0.6%, at $57.12 per barrel.
Brent finished the session up 31 cents, or 0.5%, at $62.37.
Crude prices began the day lower on concerns that the White House and Beijing had yet to announce a new location or time to seal the agreement of their "phase one" trade deal, which was proposed with much hype by President Donald Trump at the end of October. In the past two weeks, an international gathering in Chile, where the trade deal was to have been signed, was canceled and the U.S. and China have continued to disagree on the rollback of tariffs.
But after two straight days of losses on trade-war concerns, oil bulls saw the chance to grab back the market's reins when Federal Reserve Chairman Jerome Powell said the U.S. economy would see a "sustained expansion" with the full impact of recent interest-rate cuts still to be felt.
Meanwhile, Mohammad Barkindo, Secretary General of the Organization of the Petroleum Exporting Countries, said global economic fundamentals remained strong, and he said he was still confident the United States and China would reach a trade deal.
"It will almost remove that dark cloud that had engulfed the global economy," Barkindo said, adding it was too early to discuss the output policy of OPEC's December meeting. Signals sent out by the cartel earlier that it probably won't ask for additional output cuts next month had been one of the factors weighing on oil.
Also, one week ago, OPEC was singing a different tune altogether on future demand, saying the outlook for oil was debatable given global economic conditions.
In a long-term outlook released on Nov. 5, the cartel said it saw oil consumption in 2023 running at 103.9 million barrels per day, down from 104.5 million bpd in last year's report.
The U.S. Energy Information Administration, meanwhile, projected Wednesday that U.S. crude oil output is expected to have hit a record of 13 million bpd this month and will grow more than expected in 2019 and 2020.
The EIA also said U.S. production is expected to rise to 12.29 million bpd this year, 30,000 bpd more than it forecast last month. U.S. oil output is expected to rise an additional million bpd to 13.29 million bpd in 2020, the agency said.
Market participants are also on the lookout for industry data on oil storage balances for last week after the settlement of Wednesday's trade.
The American Petroleum Institute (API) will issue at 4:30 PM a snapshot of what the Energy Information Administration (EIA) will likely report as official petroleum supply-demand balances for last week. Analysts surveyed by Investing.com think crude stockpiles may have risen by as much as 1.65 million barrels for the week ended Oct 8.
In the previous week to Nov 1, the EIA reported a crude build of nearly 8 million versus market expectations for a rise of 1.5 million.
Original Article