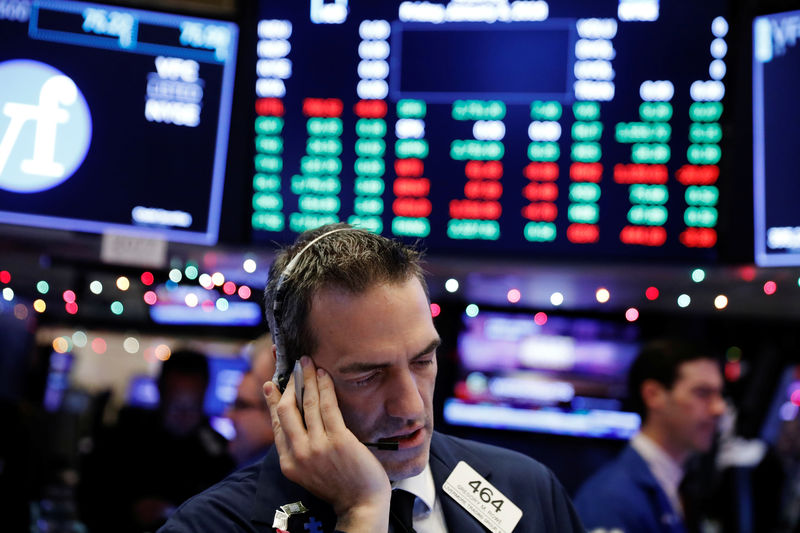 © Reuters.
Investing.com - Stocks finished modestly higher but at record closing highs in quiet Friday trading, thanks largely to gains from Walt Disney (NYSE:DIS) and others.
The market managed to shrug off President Donald Trump's comment in the morning that he hadn't decided whether to rescind tariffs on Chinese goods scheduled for December. Stocks initially fell back on Trump's comment, with the Dow Jones industrials falling nearly 96 points before a recovery set in.
The S&P 500 was up 0.26%. The Nasdaq Composite added 0.48%. The Nasdaq 100 Index rose 0.44%.
The Dow rallied to a tiny gain of 0.02%, or 6.44 points, on the way to a record close at 27,681.24.
For much of the day, the Dow was held back by weakness in Boeing (NYSE:BA) after Southwest Airlines (NYSE:LUV) said it doesn't expect to be able to fly 737 MAX planes before March. Boeing was off 1.85% and subtracted nearly 45 points from the Dow.
Walt Disney (NYSE:DIS) gave the Dow a big boost after reporting strong quarterly results after Thursday's close. The shares were up an index-leading 3.75%and added nearly 34 points to the blue-chip index.
Health and technology stocks were the market sector leaders. Energy, utilities and real estate were the laggards.
Microsoft (NASDAQ:MSFT) and Apple (NASDAQ:AAPL) both hit all-time intraday highs. Microsoft closed up 1.2%, reaching an intraday high of $145.99. Apple, up 0.27% on the day, hit an all-time high of $260.44.
For the week, the major indexes closed higher for a third straight week. The Dow was up 1.2%, with the S&P 500 up 0.86% and the Nasdaq up 1.1%.
Much of the gains were built on hopes that a U.S.-China trade deal is all but done. Reports suggest the deal would include holding back on the December tariffs and perhaps tariffs imposed in September. Japan's Nikkei 225 index hit a 52-week high on trade hopes as well.
Interest rates moved up again, with the 10-Year Treasury yield at 1.942%, up from Thursday's 1.922%. The yield jumped as high as 1.973% on Thursday, its highest level since the end of July.
In oil, WTI futures moved higher, but gold futures fell in New York.
Regeneron Pharmaceuticals (NASDAQ:REGN), chipmaker Qualcomm (NASDAQ:QCOM) Noble Energy (NYSE:NBL) and Xerox (NYSE:XRX) were among the S&P 500's top performers Friday.
Xerox jumped on reports the company had held talks to sell out to HP Inc (NYSE:HPQ). It's how offered to buy out HP.
Troubled retailer Gap (NYSE:GPS), chemical maker Albemarle (NYSE:ALB), News Corp A (NASDAQ:NWSA) and News Corp B (NASDAQ:NWS), and NRG Energy (NYSE:NRG) were the weakest S&P 500 performers.
Original Article