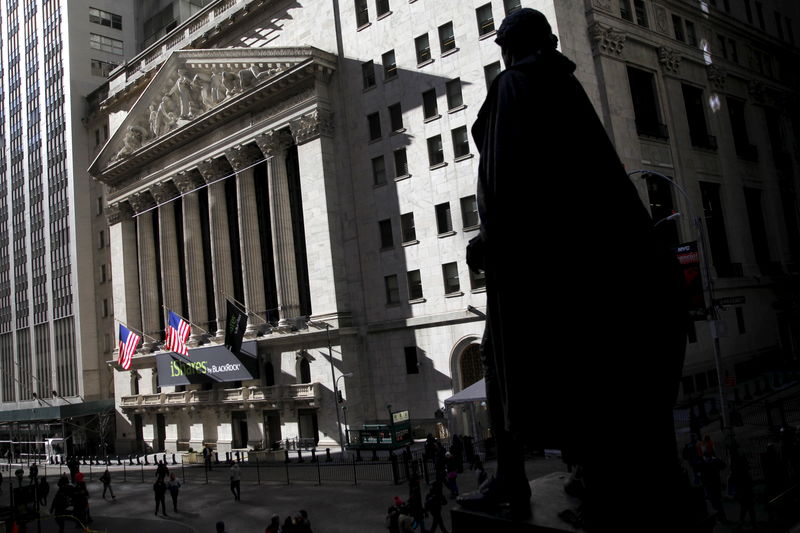 © Reuters.
Investing.com -- Walmart (NYSE:WMT) will update on its battle for market share with Amazon (NASDAQ:AMZN) ahead of the key holiday season, while weak data from Japan, China, the euro zone and U.K. are setting a gloomy tone for stocks at the open. Plus, Jerome Powell continues his Congressional testimony and both OPEC and the U.S. government update the oil market with their latest numbers. Here's what you need to know in financial markets on Thursday, 14th November.
1. Economic gloom persists worldwide
There was further evidence of global economic weakness, as China's retail sales, industrial production and fixed asset investment all slowed in October, falling short of expectations on all three counts. The official data do, however, need to be measured against signs of record high levels of oil imports and the breathtaking sales volumes generated by Alibaba's Singles Day event over the weekend.
The euro zone economy, meanwhile, grew at a decidedly sedate 0.2% in the third quarter, the main highlight being that Germany – traditionally the region's engine room – avoided a technical recession by eking out 0.1% in growth through September.
There was no putting a gloss on some miserable figures from Japan, however, where quarterly GDP growth missed expectations and the annual rate slowed to only 0.2%, due largely to weak private consumption and external demand.
2. Walmart's report due early, Nvidia's up later
Walmart Inc (NYSE:WMT) is set to unveil results for the third quarter before the opening, with all eyes on how it's faring in its battle for market share with Amazon.com (NASDAQ:AMZN) ahead of the crucial holiday season.
Amazon (NASDAQ:AMZN) scrapped a $15 delivery fee for Prime members recently, upping the pressure on Walmart (NYSE:WMT) to respond with something equally friendly to customers and damaging to margins.
Analysts expect a minuscule uptick in earnings per share to $1.09, on a 3% rise in sales to $128.6 billion.
After the closing bell, it will be the turn of chipmaker Nvidia (NASDAQ:NVDA) to update.
3. Stocks weighed on by data, Powell comments
U.S. stock markets are poised to open slightly lower on the back of the negative economic data from around the world overnight. In addition to the Chinese and euro zone figures, Australia's labor market and Britain's retail sales both weakened sharply.
By 6:30 AM ET (1130 GMT), Dow futures were down 45 points, a little under 0.2%, while S&P 500 futures and were down in parallel.
There's little on the U.S. data calendar that seems likely to turn the market around, with only weekly jobless claims and October's producer price inflation data both due at 8:30 AM ET (1330 GMT).
4. Powell damped rate hopes - will others follow?
There is, however, a chorus of speakers from the Federal Reserve. Chairman Jerome Powell returns to Capitol Hill for a second day of testimony after pushing back Monday against pressure for more interest rate cuts.
In addition, Chicago Fed President Charles Evans and vice-chairman Richard Clarida are due to speak at 8:10 AM ET, while NY Fed President John Williams speaks at 11 AM and St. Louis Fed President James Bullard at 11:20.
Investing.com's Fed Rate Monitor Tool now implies that there's a better-than-even chance of no further rate cuts all through the first half of next year.
5. Oil market awaits OPEC, EIA numbers
The Organization of Petroleum Exporting Countries will release its monthly report on the oil market at 7:10 AM ET (1210 GMT), against the backdrop of efforts by Saudi Arabia to shore up prices while it markets its mammoth IPO of Saudi Aramco.
Elsewhere, the U.S. government will release its weekly figures on U.S. oil supplies, a day later than normal due to the Veterans' Day holiday at the start of the week.
Analysts expect a modest rise of 1.65 million barrels in crude inventories, after last week's bumper 7.9 million-barrel build. The American Petroleum Institute estimated on Wednesday that U.S. crude stockpiles actually fell by 500,00 barrels last week.
Original Article