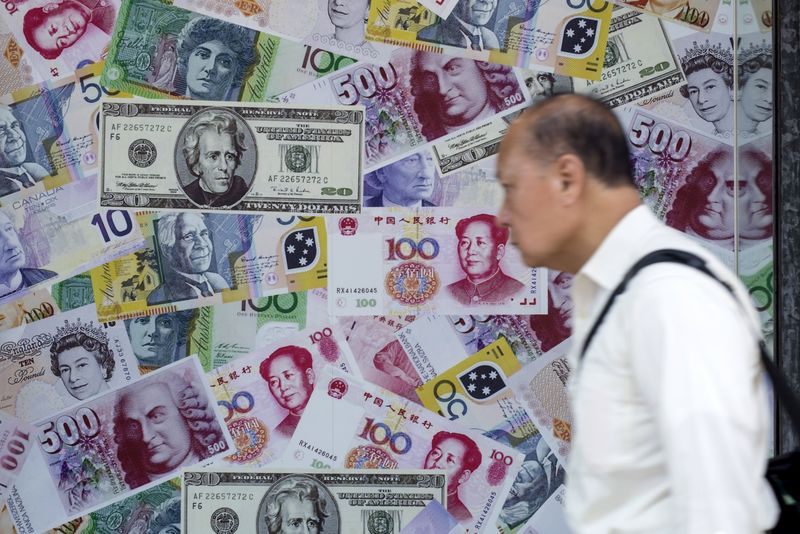 © Reuters.
Investing.com – The dollar held steady in morning trade in Asia Wednesday morning after US President Donald Trump raised doubts that a trade deal with China will be signed before the end of next year.
"In some ways, I like the idea of waiting until after the election for the China deal, but they want to make a deal now and we will see whether or not the deal is going to be right," Trump told reporters on Tuesday. He went on to add that he does not have a deadline for a deal. The election will be held in November 2020.
The comments, which followed a decision by the US on Monday to put tariffs on aluminium and steel exports from Argentina and Brazil, added to the tension that already exists in global trade.
The US Dollar Index Futures, which tracks the greenback against a basket of currencies, was virtually flat, down 0.01% to 97.72 by 9:20 PM ET (02:20 GMT).
In mainland China, the People's Bank of China (PBOC) set the reference rate for the yuan, the midpoint around which the currency is allowed to trade, at 7.0282 compared to 7.0223 on Tuesday.
The USD/JPY pair gave up 0.04% to 108.58. The yen has been strengthening against the dollar this week.
The AUD/USD pair gave up 0.17% to 0.6835. The NZD/USD was down 0.08% to 0.6514.
European currencies were mixed. The GBP/USD pair was trading up 0.05% to 1.2999. An election that could determine the future of Brexit is set for Dec. 12. The EUR/USD was flat, trading at 1.1080. 
Original Article