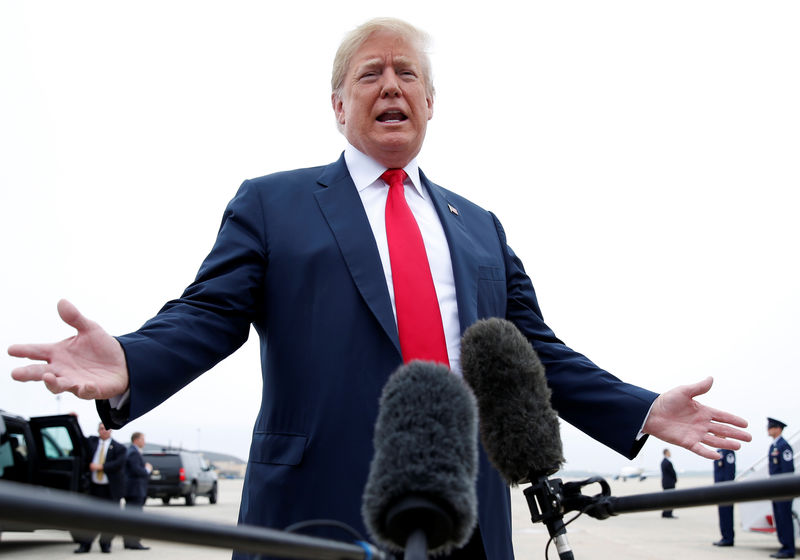 © Reuters.
Invesing.com – The U.S. dollar climbed Wednesday as risk appetite bounced back after President Donald Trump signaled de-escalation in conflict with Iran despite the Islamic Republic launching several attacks on U.S. forces in Iraq.
The U.S. dollar index, which measures the greenback against a trade-weighted basket of six major currencies, rose by 0.28% to 96.75.
In response to the attacks from Iran, Trump said the U.S. "will immediately impose additional punishing economic sanctions on the Iranian regime." The sanctions would remain in force until Iran changes its behavior, he added.
Safe-haven currencies like the yen and Swiss franc fell, boosting the greenback as the decision from Trump to impose sanctions rather than signal a military response suggested he is seeking to de-escalate tensions.
USD/JPY rose 0.68% to 109.17 and USD/CHF rose 0.37% to $0.974.
The dollar was also lifted by ongoing weakness in the euro following softer factory order data from Germany, the eurozone's largest economy.
EUR/USD fell 0.34% to $1.111.
The pound, meanwhile, continued to lose ground against the greenback as U.K. Prime Minister Boris Johnson kept fears alive that Britain could leave the European Union without a deal at the end of year.
Prime Minister Boris Johnson told European Commission Chief Ursula von der Leyen that the U.K will not extend its transition out of the European Union beyond December 2020.
Leyen warned that "without an extension of the transition period beyond 2020," an agreement on a new trade deal would be a risk.
USD/CAD rose 0.20% to C$1.303 with the loonie coming under pressure as U.S.-Iran tensions faded, reducing the risk of a disruption in oil supplies in the Middle East.
The continued uptick in the greenback comes even as some view the world's reserve currency as being overvalued.
"The dollar is overvalued by about 10% and has been overvalued for the last two years," Bank of America (NYSE:BAC) FX strategist Athanasios Vamvakidis said. "The reason for this has been to a large extent due to Trump's policies, in particular tax cuts and tariffs." The tailwinds from the policies are "now behind us" with further fiscal stimulus unlikely ahead of presidential elections in November, the bank added.
Original Article