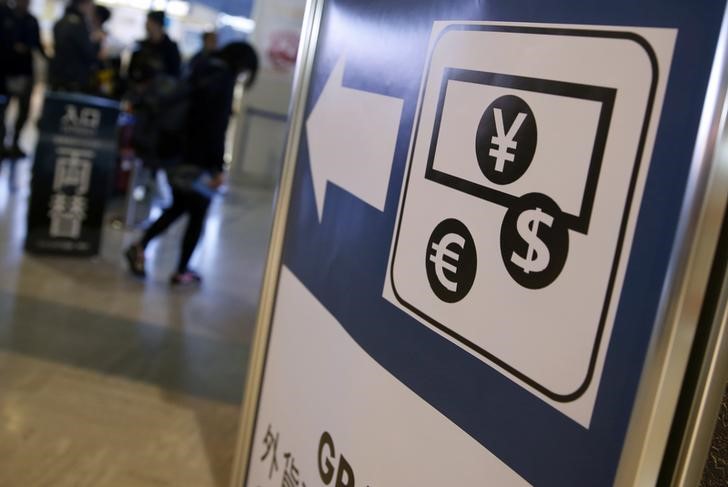 © Reuters.
Investing.com - The Japanese yen slipped on Thursday in Asia as safe-haven demand faded after U.S. President Donald Trump signalled de-escalation in conflict with Iran.
The U.S. Dollar Index that tracks the greenback against a basket of other currencies last traded at 96.985 by 1:30 AM ET (05:30 GMT), down 0.01%.
Earlier this week, the Islamic Republic launched several rockets against U.S. airbases in Iraq in response to a U.S. airstrike that killed a top Iranian general last week.
In response to the attacks from Iran, Trump said the U.S. "will immediately impose additional punishing economic sanctions on the Iranian regime." The sanctions would remain in force until Iran changes its behavior, he added.
The decision from the president to opt for sanctions rather than military response sent safe-haven assets down, while stocks and other risk assets recovered.
The USD/JPY pair was up 0.1% to 109.26.
The GBP/USD pair gained 0.2% to 1.3119. Prime Minister Boris Johnson told European Commission Chief Ursula von der Leyen that the U.K will not extend its transition out of the European Union beyond December 2020, raising fears that the U.K. could still exit the EU without a deal at the end of the year.
Leyen warned that "without an extension of the transition period beyond 2020," an agreement on a new trade deal would be a risk.
Meanwhile, the AUD/USD pair and the NZD/USD pair both inched up 0.1%.
The USD/CNY pair dropped 0.3% to 6.9247. China's National Bureau of Statistics reported that the country's consumer price index rose 4.5% last month from a year earlier. The median forecast was for a 4.7% increase.
Original Article