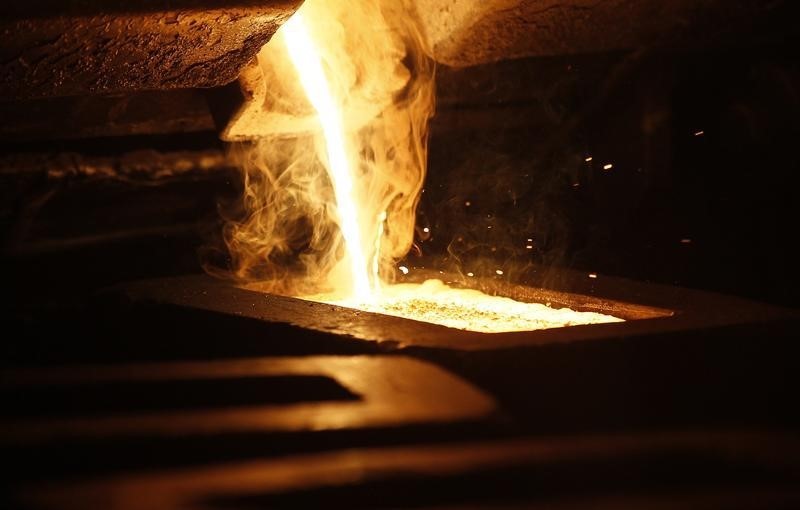 © Reuters.
By Geoffrey Smith
Investing.com -- Gold prices joined a melt-up in global markets on Friday as signs of an upturn in the Chinese economy and more solid U.S. figures triggered a rally across almost risk assets.
Once again, prices moved inversely to bond prices, with which gold usually enjoys a high correlation.
By 1025 AM ET (1525 GMT), gold futures for delivery on the Comex exchange were up 0.3% at $1,555.75, while spot gold was up 0.3% at $1,555.77.
By contrast, prices for U.S. Treasury debt with a maturity of more than two years were all lower, sending yields higher by as much as four basis points at the long end of the yield curve.
Gold may have benefited from the broader rise in precious metals, with platinum and palladium once again posting sharp gains on concerns about supply from South Africa, where the state electricity monopoly's inability to operate reliably has distressed the mining industry.
Platinum futures rose 2.7% to $1,028.65 an ounce, while palladium futures hit a new all-time high of $2,279.25 an ounce before retracing to $2,276.95, still up 4.6% on the day.
Demand for the two metals has also been helped by data showing a big jump in European car registrations at the end of last year: platinum and palladium are both used in catalytic convertors in internal combustion engines. However, the data were heavily distorted by discounting so as to clear as much old stock as possible before tighter new emission rules came into force in the EU at the start of the year. As such, December's data may have merely brought forward demand that would naturally have been seen in 2020.
There was little in the day's economic data – outside of the U.K. - to suggest the imminence of any interest rate cuts that would support further gold buying. U.S. housing starts hit their highest level in 13 years in December, while the University of Michigan's consumer sentiment index edged down only slightly and U.S. manufacturing production posted a surprise increase.
More notably, Chinese data earlier in the day had hinted strongly at a bottoming out of the economy, with industrial production growing at its fastest rate since April in December.
Elsewhere in the metals spectrum Friday, silver futures rose 0.3% to $17.98 an ounce, while copper continued to drift around the $2.86 a pound mark.
Original Article